Ensuring data getting in and out of your Snowflake environment that is more reliable is crucial to optimize your productivity and deliver insights and data products end users can trust.
With Kensu, your data team benefits from advanced data observability capabilities. You can set circuit breakers to prevent issues from propagating and tackle any data incidents twice as fast thanks to contextual insights.
Learn when something goes wrong, instantly
Kensu Notifier sends an alert when a rule fails, while Kensu Tickets reveals the affected data source and what went wrong.
Understand what is happening with your data
Kensu retrieves valuable context about the data sources processed. In parallel, it connects to tables to retrieve schemas and metrics, allowing data teams to have full visibility over their Snowflake pipelines.
Dig in, analyze the issue, and cut resolution time in half
Kensu Observations illuminate the backstory behind the problem for every affected data source and provides Snowflake users with contextual insights they need to fix the incidents faster.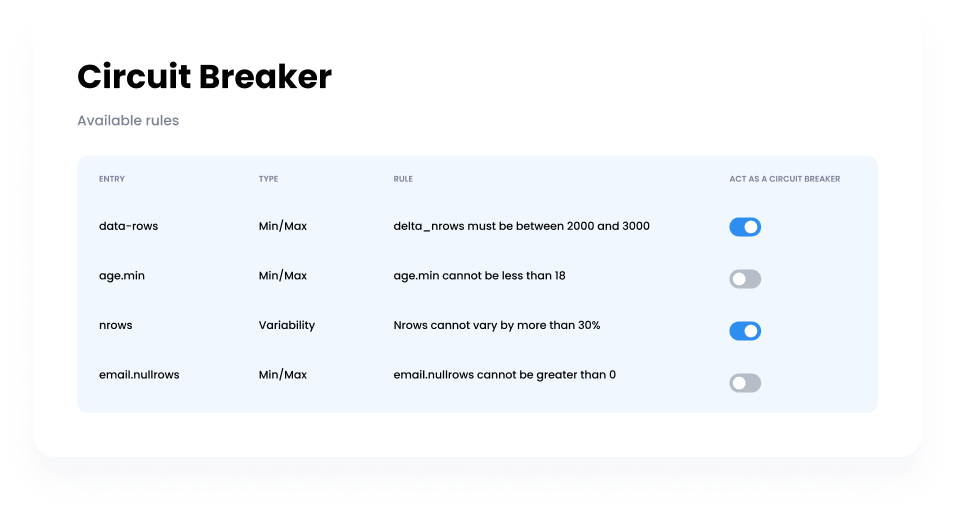 Kensu Circuit Breaker can require an application using Snowflake tables to stop working as soon as an incident has been detected, so you have time to solve the issue before it hits users.