Discover our different series of webinars designed for data professionals.
Don't miss out on our Intro to Data Observability sessions!
Each month, join our team to get an introduction to Data Observability, see how the Kensu platform works, and ask any questions you have about it.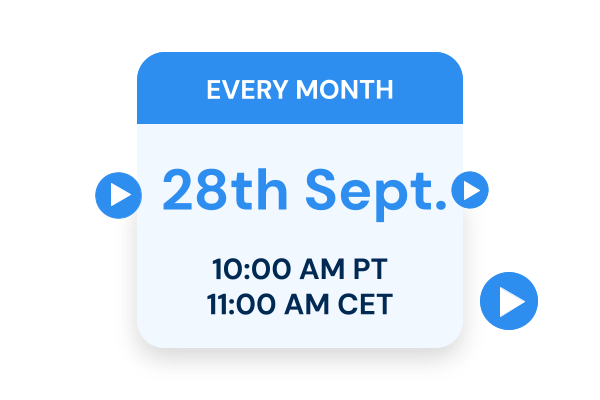 Join these sessions and listen to data experts covering a broad spectrum of topics to help you improve data reliability, lower maintenance costs, and scale up data usage.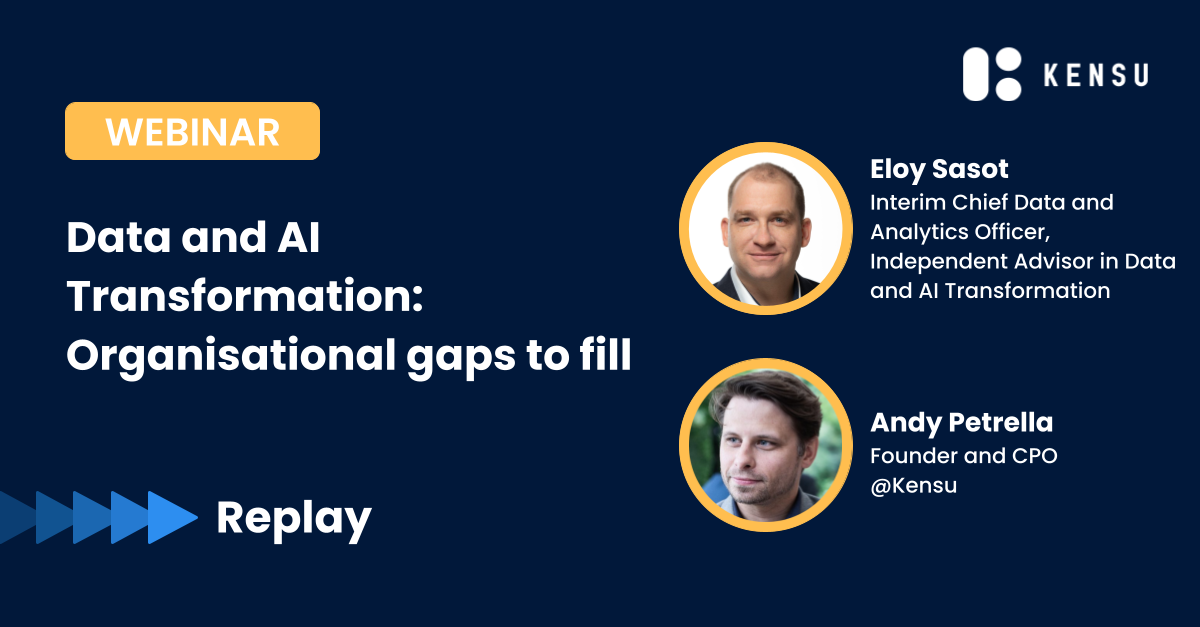 REPLAY
Data and AI Transformation: Organisational gaps to fill
Watch this session and gain insights on data and AI in transformation and the key elements that support these changes in complex organizations. Our speakers explore the critical intersection between data teams and the rest of the business. They also delve into the operating gap and discuss the value gap and the measurement of success.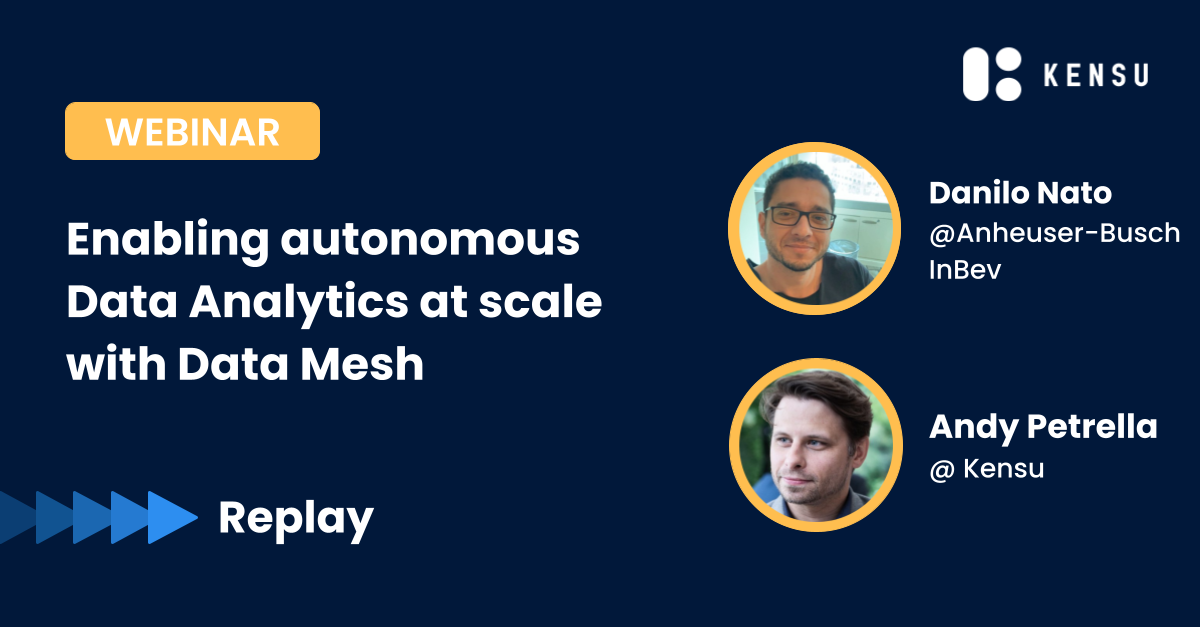 REPLAY
Enabling autonomous data analytics at scale with data mesh
Watch this webinar and hear about the challenges of big data in enterprises and the implementation of data mesh at scale and what it means in terms of organization, processes and technical challenges. Finally, our experts discuss scaling up analytics across different countries.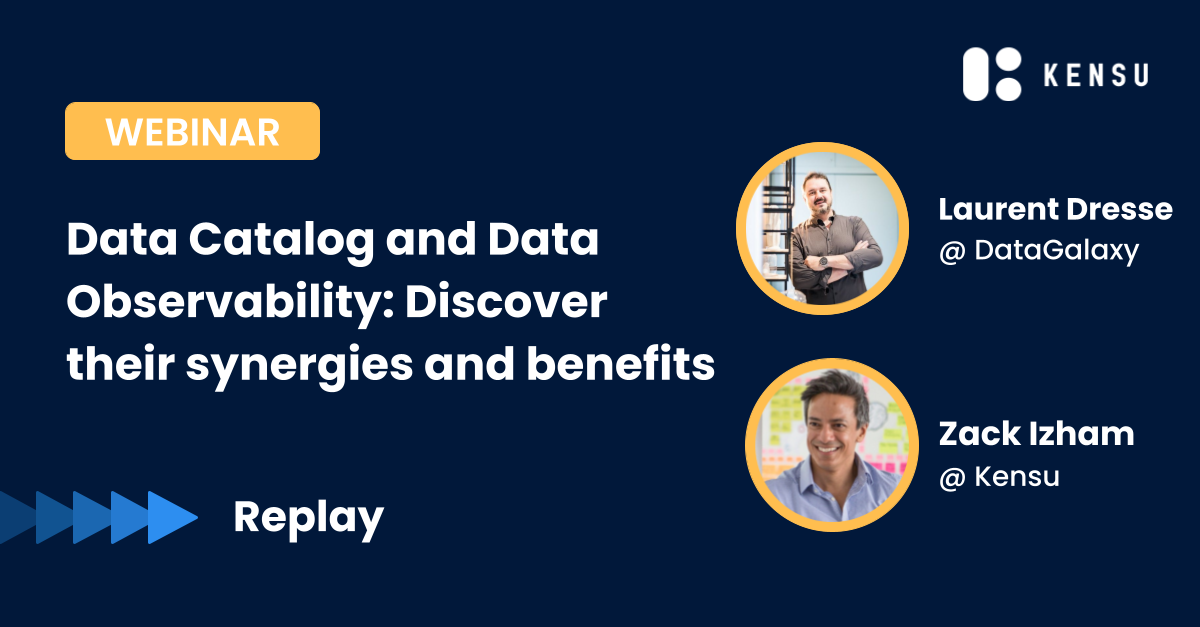 REPLAY
Data Catalog and Data Observability: Discover their synergies and benefits
In a complex data environment, it's hard to see what's happening to your data. Data observability is the solution. If you want to go a step further, exposing this information to the organization is a data-centricity enabler, and to achieve this, a Data Catalog is critical.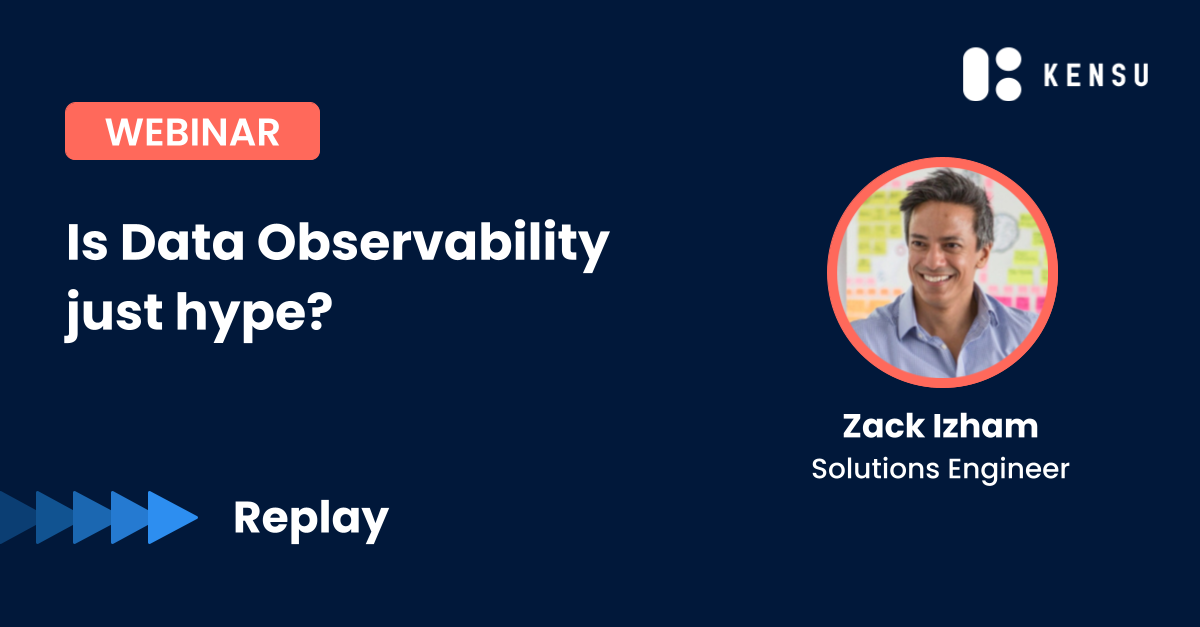 REPLAY
Is Data Observability just a hype?
Data Observability is getting on the radar of the most efficient data teams and the leading consulting firms. How is this new category different from existing solutions? And why should data teams consider it? Watch this replay and separate the benefits from the hype.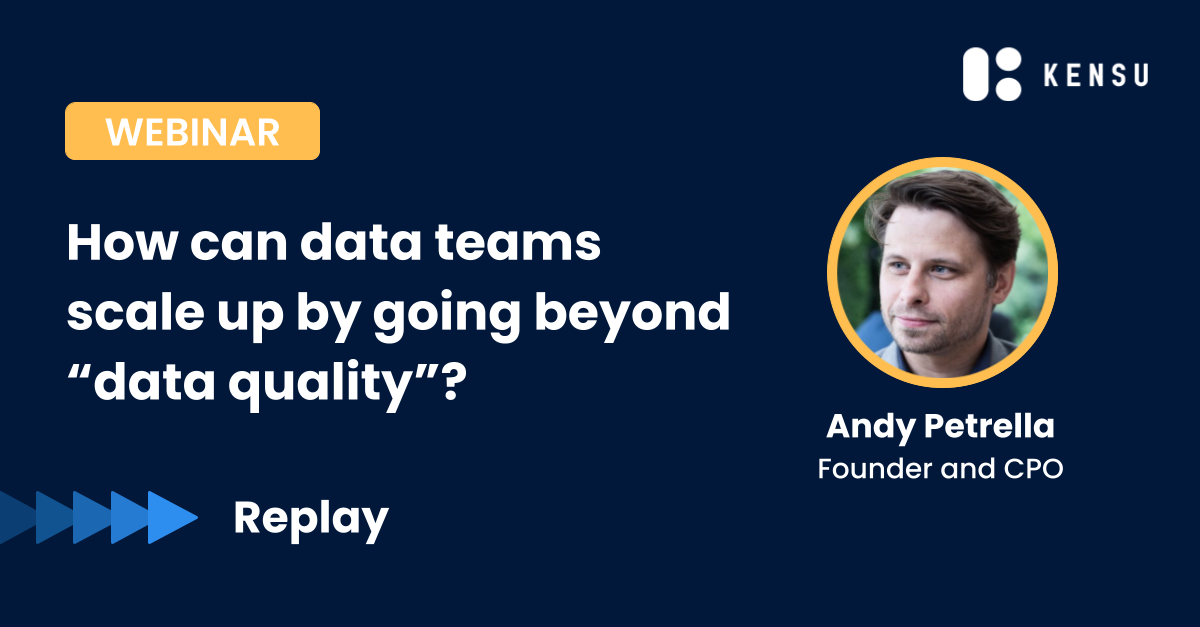 REPLAY
How can data teams scale up by going beyond "data quality?"
For years data teams have worked with data quality solutions, stumbling upon the same difficulties that stop them from scaling up their activities. Watch this replay and discover a new approach that offers data reliability at scale.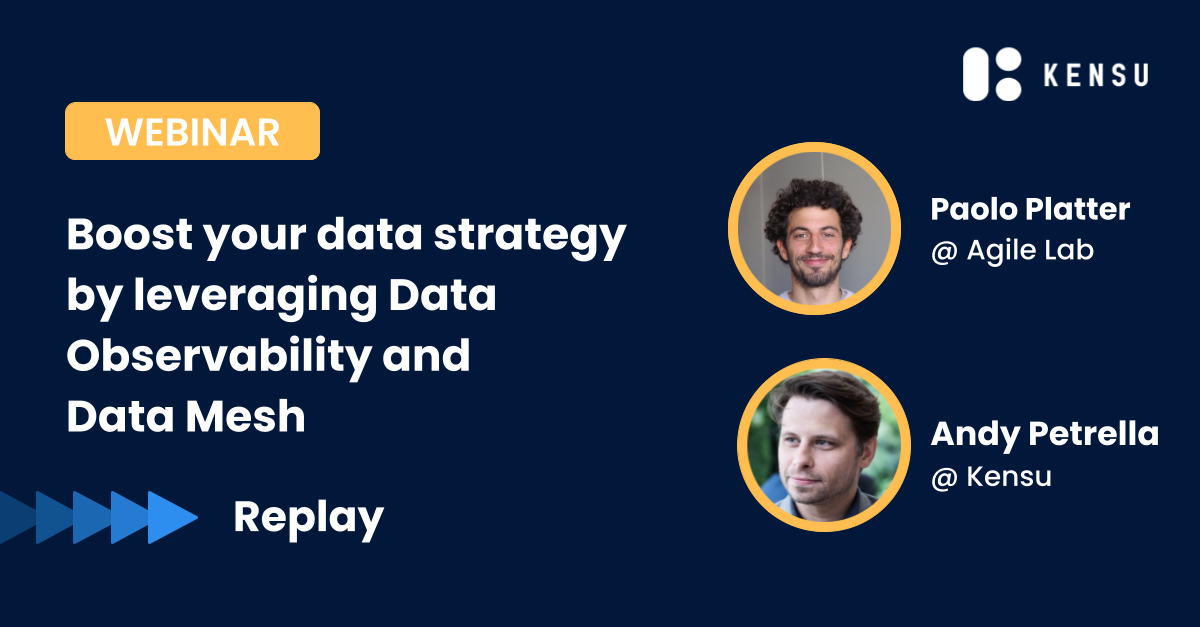 REPLAY
Boost your data strategy by leveraging Data Observability and Data Mesh
As data is not driving the business anymore but is the business, data teams have to manage data usage at scale. To do so, they can leverage two new trends: data mesh and data observability. Watch this webinar to find out more about both.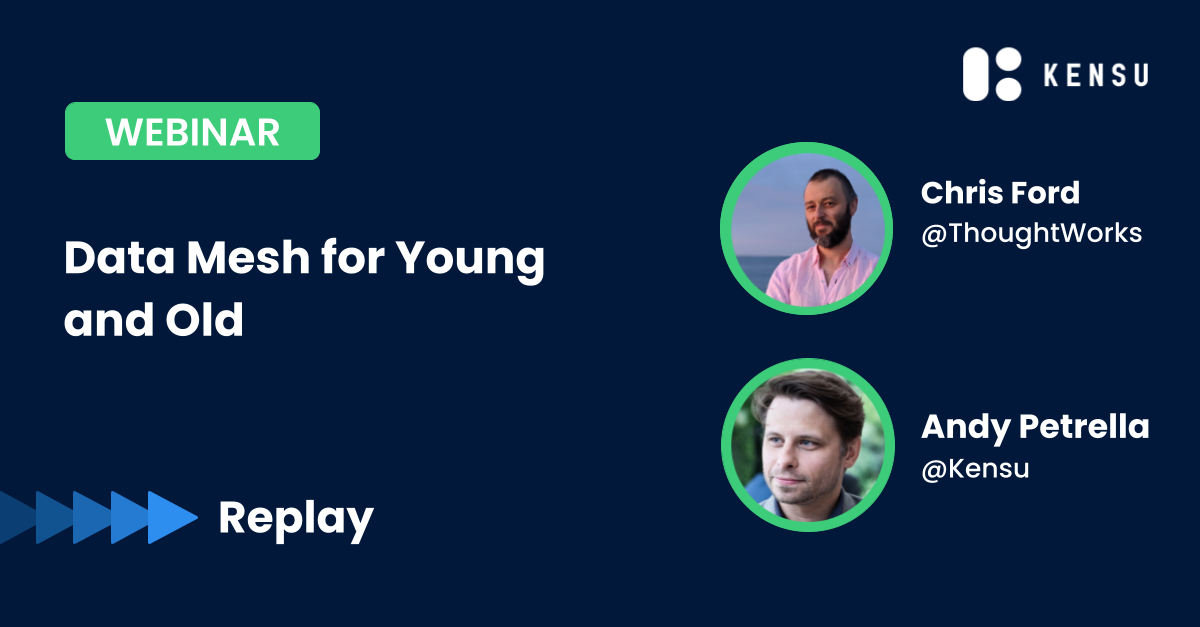 REPLAY
Data Mesh for young and old
Join our CPO Andy Petrella and Chris Ford from ThoughtWorks to hear about the value of Data Mesh for both young scale-ups and established enterprises. They'll discuss the challenges faced by those companies and their journey to adoption which is heavily influenced by the stage of life of their business.
Data Observability in Practice
Discover "Data Observability in Practice", our series of webinars designed for data practitioners.
During the sessions, our expert will discuss how to get the most out of Data Observability in different applications such as Spark, dbt, and Snowflake.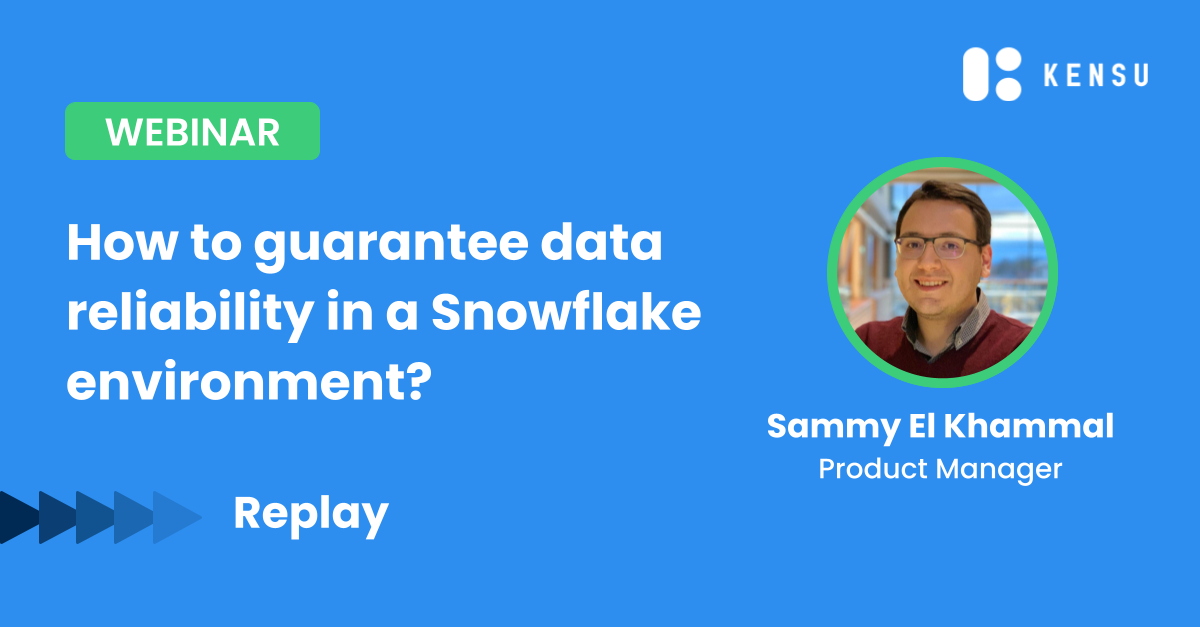 REPLAY
How to guarantee data reliability in a Snowflake environment
Snowflake is a performing platform to leverage huge volumes of data. But when a data issue arises, it can be challenging to troubleshoot it before it impacts users. Join our expert and discover how to make data observable in a Snowflake environment to resolutions faster.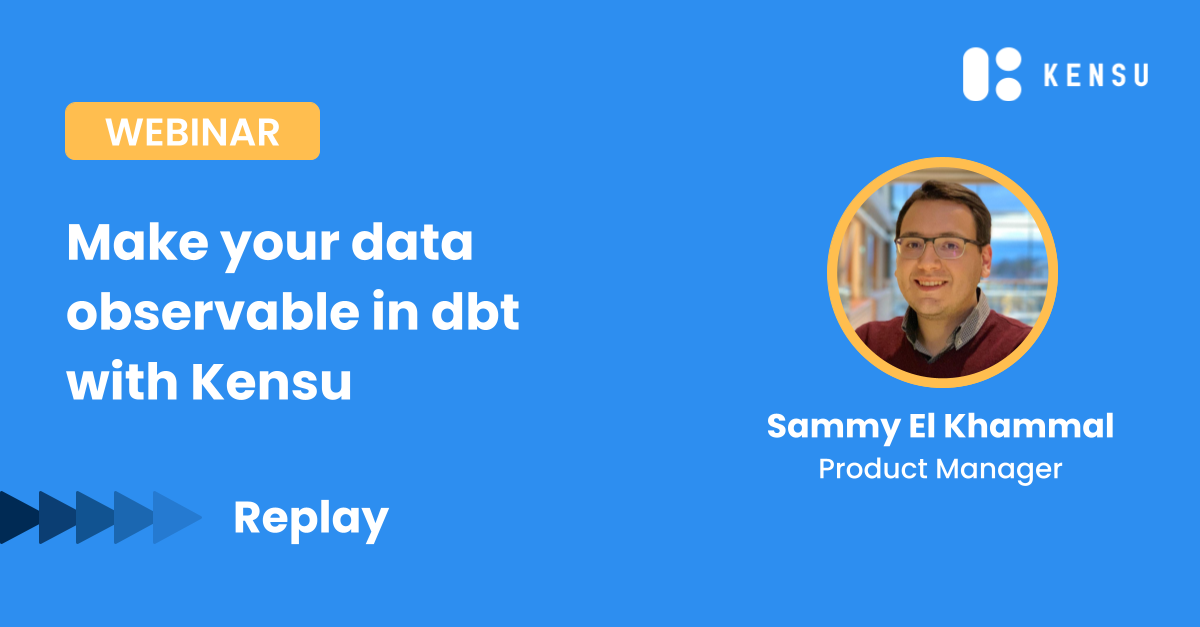 REPLAY
Make your data observable in dbt with Kensu
Troubleshooting data incidents can be a challenge in a complex dbt environment. Join this session and see how Kensu makes data observable in real-time so you can immediately find the root causes of data issues and prevent them from propagating across your environment.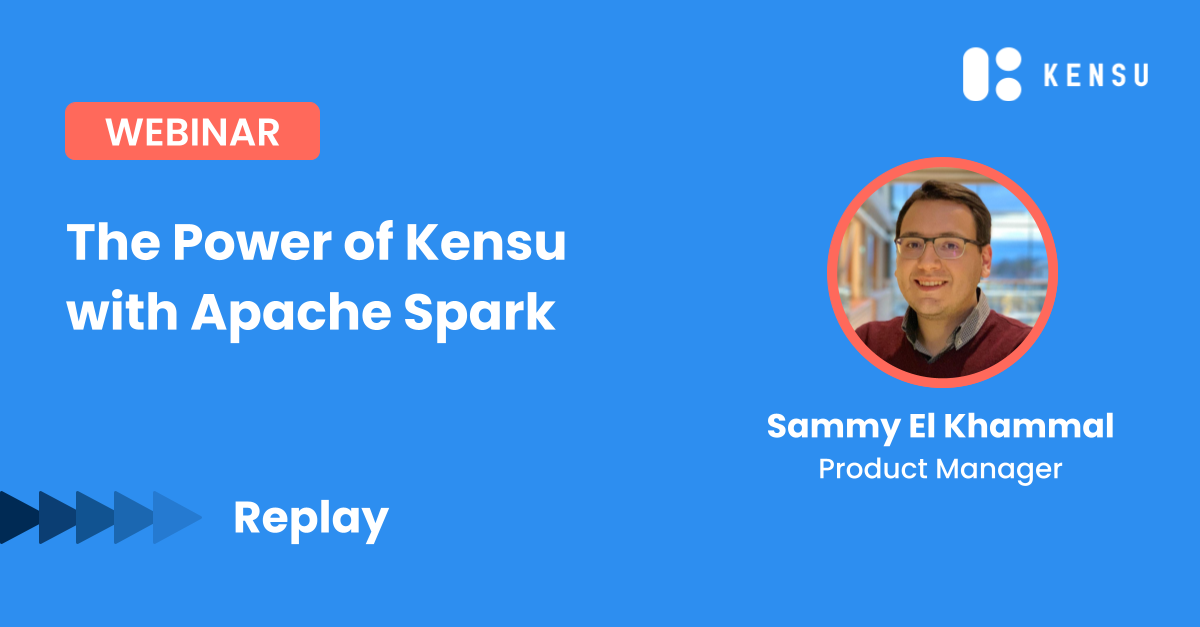 REPLAY
The Power of Kensu with Apache Spark
Spark is powerful in transforming, organizing, and moving data. Still, it can leave data teams blind when it comes to data reliability. Join this webinar and discover with our expert how to monitor the health of a data pipeline within Spark when jobs are running, so you get immediate observability.
Meet O'Reilly authors bestsellers! During the different sessions, our experts will discuss their O'Reilly books and professional experiences, and answer all the questions you may have. These interactive AMA sessions are a must for data professionals looking for inspiration.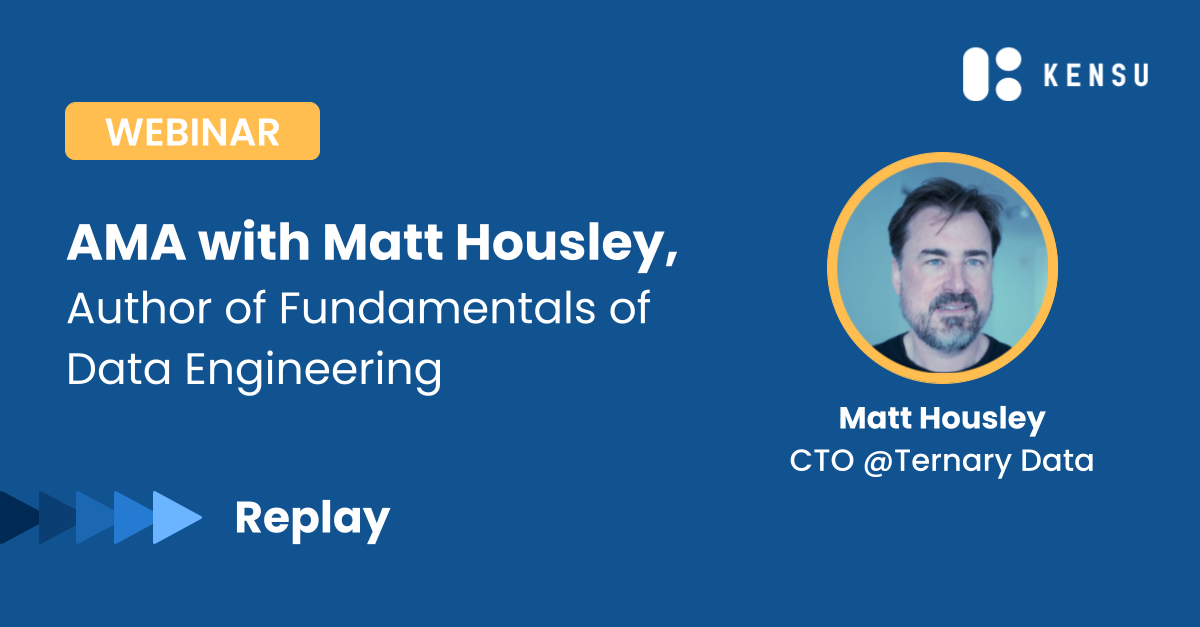 REPLAY
AMA with Matt Housley, author of Fundamentals of Data Engineering
Matthew Housley, co-author of the world best-sellers, "The Fundamentals of Data Engineering" will be with us for this AMA session! It is an excellent opportunity for all data engineers, recovering data scientists, or analytics engineers to-be to hear more about the story behind the book, the connection with Matt's Math background, and what is coming next that you don't want to miss!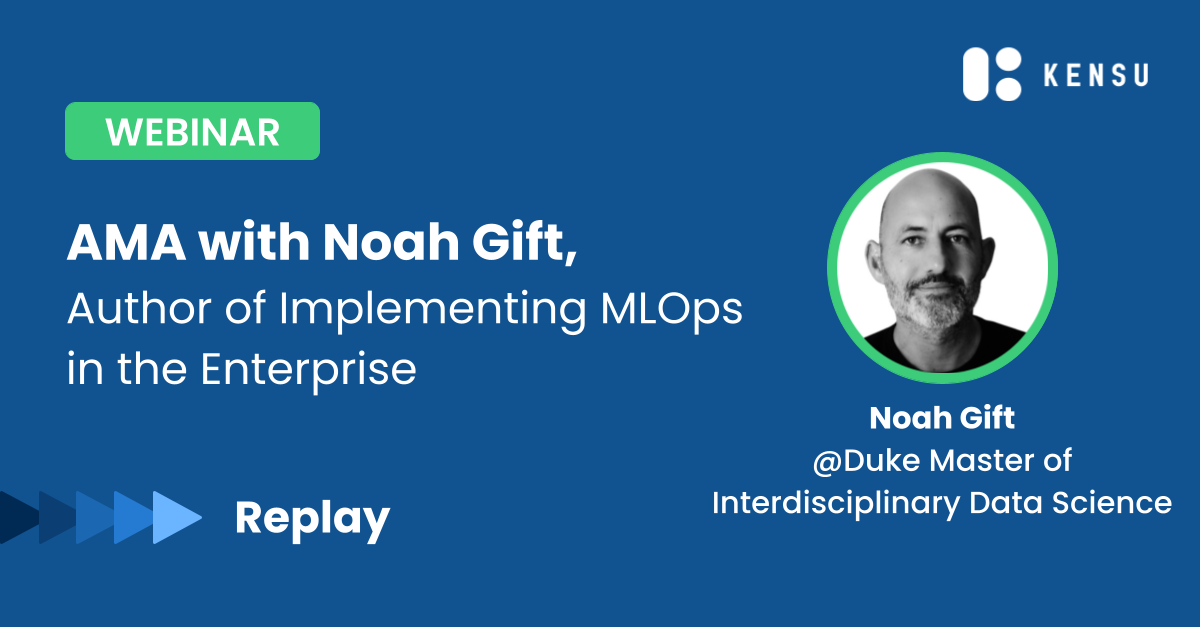 REPLAY
AMA with Noah Gift, author of Implementing MLOps in the Enterprise
Discover the ultimate guide to implementing MLOps in your enterprise! Join us and gain valuable insights from Noah, our expert speaker. Whether you're exploring chatgpt or Python programming, you'll leave with answers to your burning questions. Don't miss this opportunity to shed light on your queries!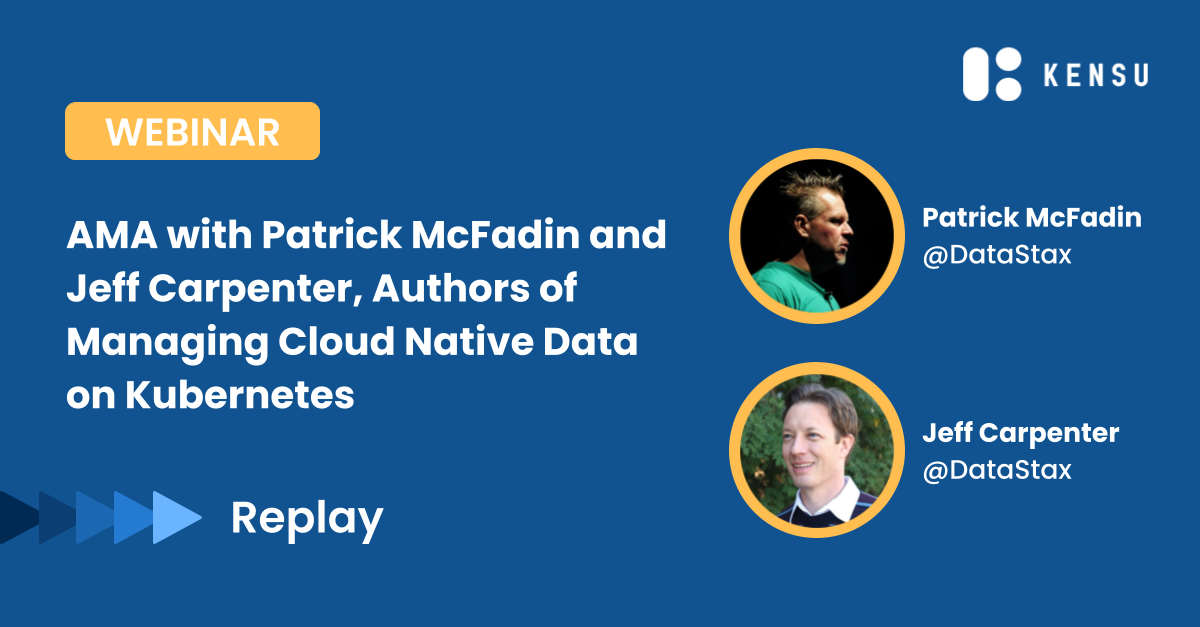 REPLAY
AMA with Patrick McFadin and Jeff Carpenter, author of Managing Cloud Native Data on Kubernetes
Find out more about the authors of the book every data architect, engineer, manager, and more needed to manage their data in the cloud - Managing Cloud Native Data on Kubernetes.
This topic has been controversial for years because it can be tricky. It "just" needed sound thinking and experimentation.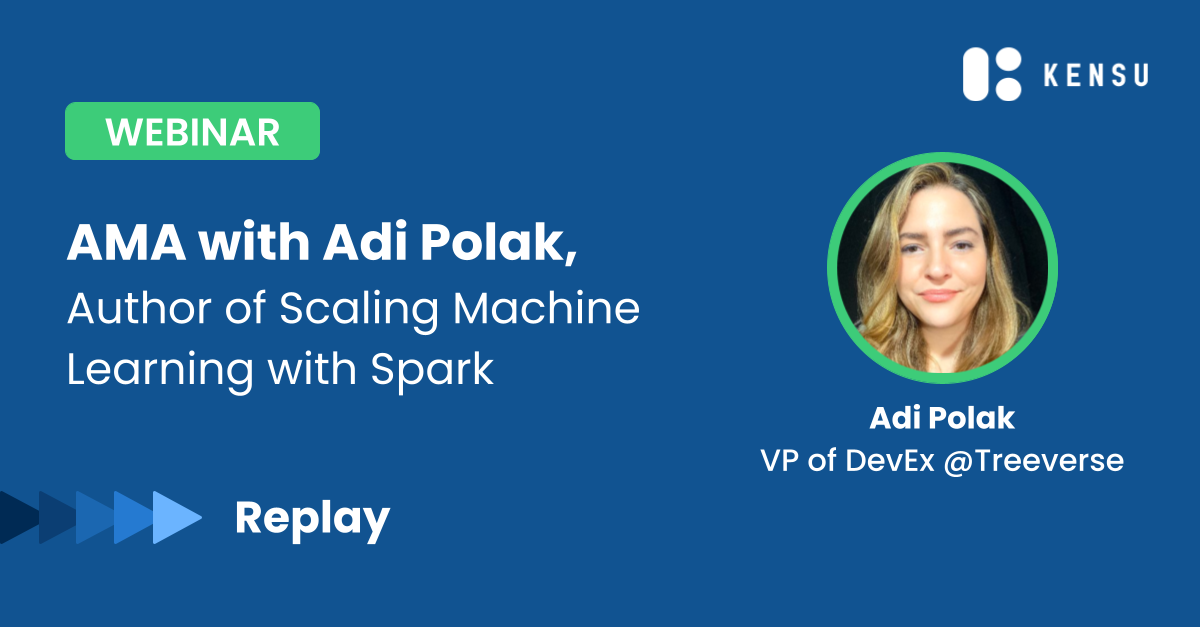 REPLAY
AMA with Adi Polak, author of Scaling Machine Learning with Spark
Find out more about the O'Reilly book "Scaling Machine Learning with Spark" and its author! As Vice President of Developer Experience at Treeverse, Adi shapes the future of data & ML technologies for hands-on builders. She is also an advisor for conferences like Data & AI Summit, Scale by the Bay, and others.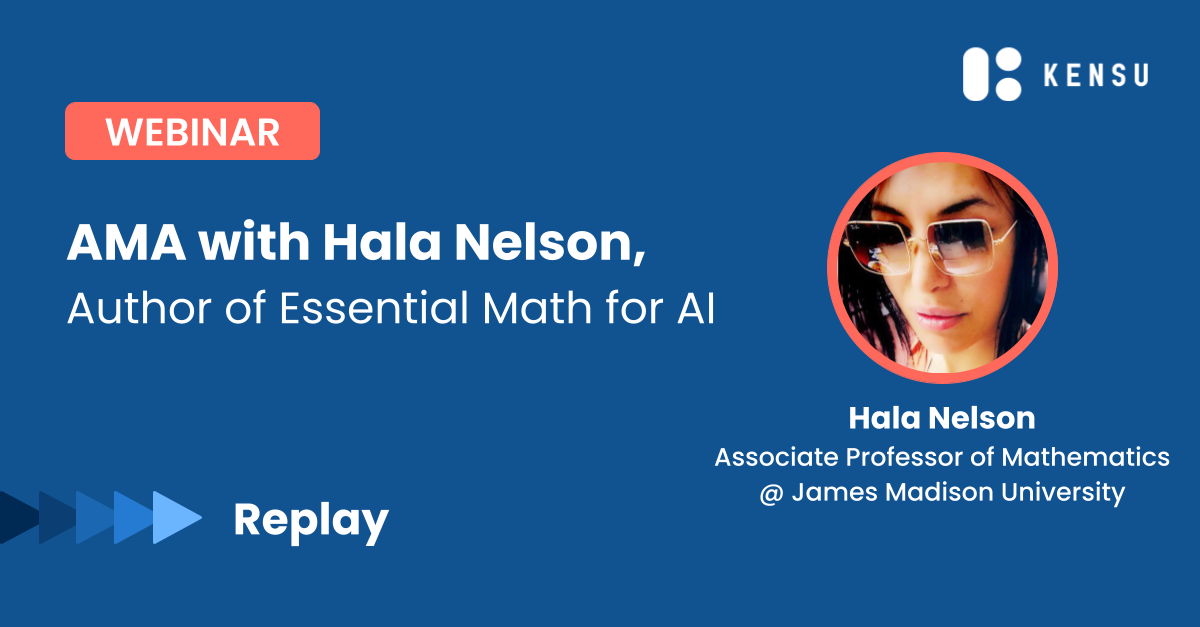 REPLAY
AMA with Hala Nelson, author of Essential Math for AI
Find out more about Hala Nelson during this discussion about her experience writing the O'Reilly book dedicated to companies scrambling to integrate AI into their systems and needing an accessible guide walking their data teams through the math necessary to thrive in the AI field - focusing on real-world applications rather than dense academic theory.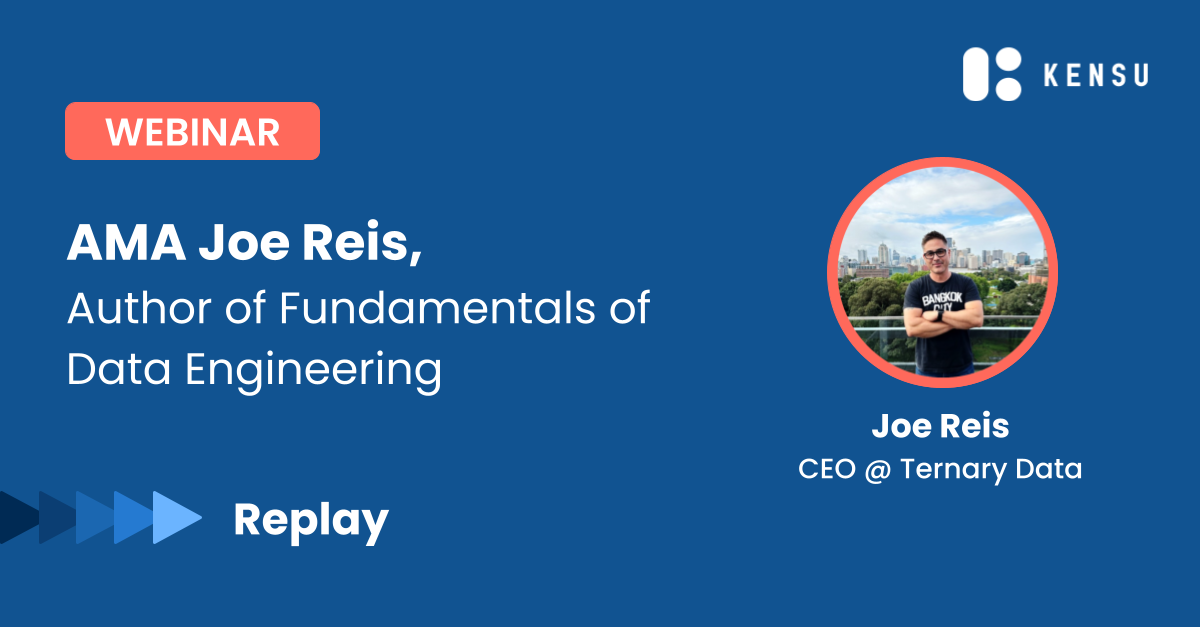 REPLAY
AMA with Joe Reis, author of Fundamentals of Data Engineering
Find out more about the O'Reilly book "Fundamentals of Data Engineering" and its author! From statistical modeling, forecasting, machine learning, data engineering, and data architecture, Joe has an extensive experience that's worth listening to for any data professionals looking for inspiration!
La Data dans tous ses états
Dans cette série de webinars en français, nous abordons avec nos invités le sujet de la Data Observability,
mais aussi des hot topics de la Data en général.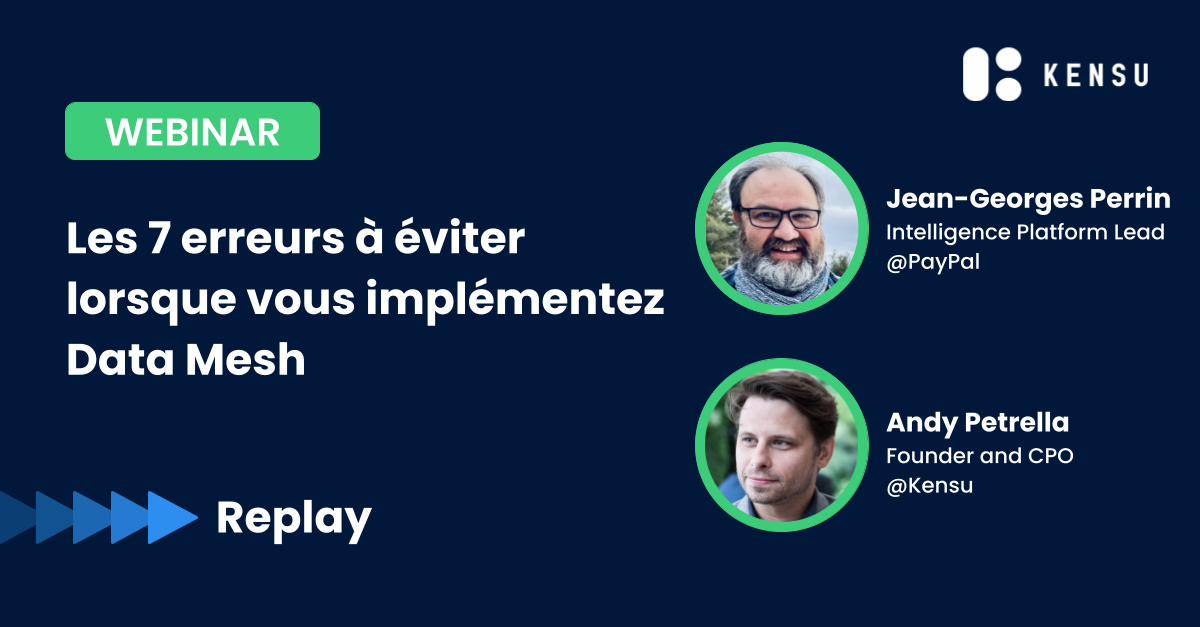 REPLAY
Les 7 erreurs à éviter lorsque vous implémentez Data Mesh
Sur un thème bon enfant autour de la bande dessinée, chère aux coeurs de Jean-Georges & Andy, venez a la découverte des sept boulettes a éviter dans l'implementation de Data Mesh dans votre organisation, qui pourraient se transformer en 101 schtroumpfs.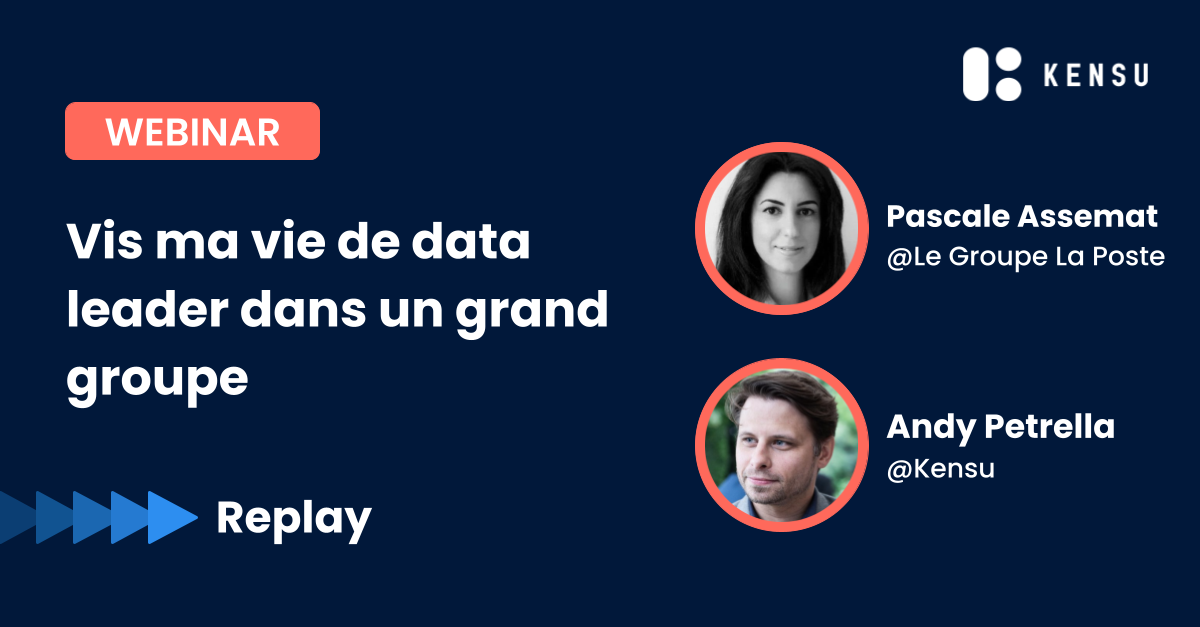 REPLAY
Vis ma vie de data leader dans un grand groupe
Lors de ce webinar nous discutons du quotidien de data leader, de la mise en place d'une stratégie data et de la gestion des investissements qui deviennent de plus en plus importants et challengés, ainsi que de la fidélisation des talents.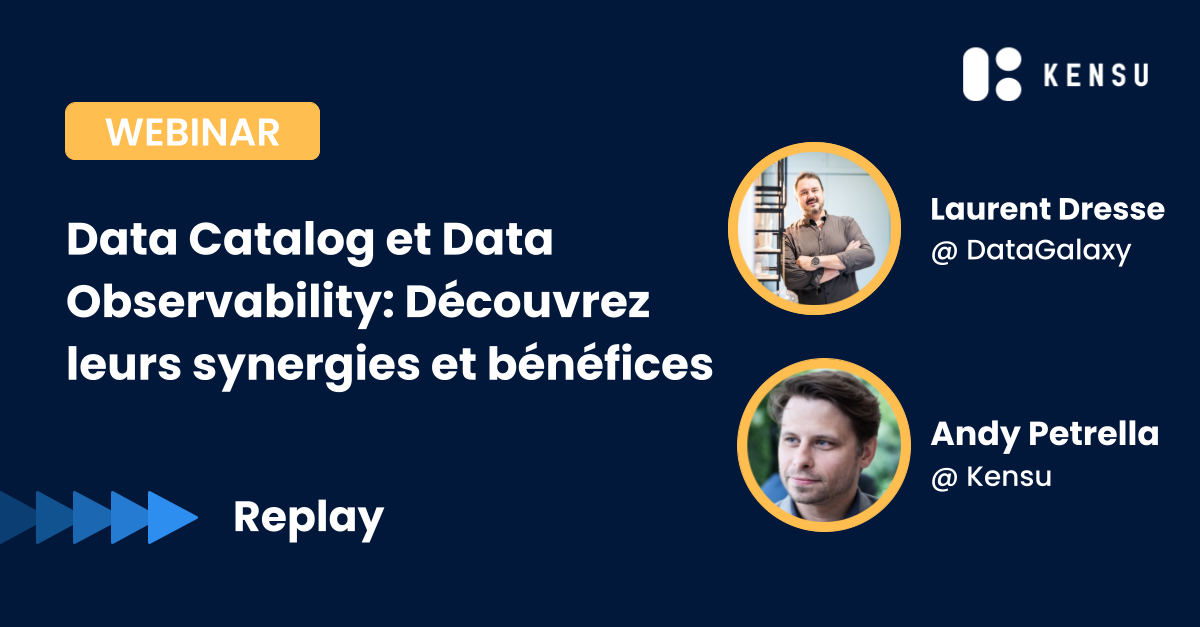 REPLAY
Data Catalog et Data Observability: Découvrez leurs synérgies et bénéfices
Dans un environnement de données complexe, il est de plus en plus difficile d'analyser vos données. La Data Observability est la solution. Si vous voulez aller plus loin, l'exposition de ces informations à l'organisation est un catalyseur de la centralisation des données, et pour y parvenir, un catalogue de données est essentiel.